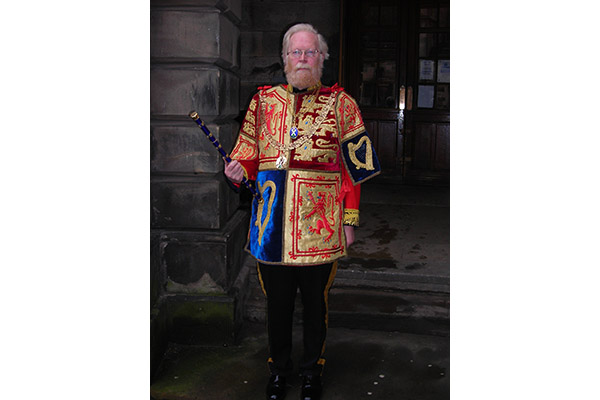 15: Pedigrees and Power in the Medieval Highlands and Islands: The Contribution of David Sellar
by Prof. Hector MacQueen
Synopsis
David Sellar (1941-2019) made a notable contribution to the study of medieval Highland & Island history. Its starting point was the surviving medieval genealogies or pedigrees of a number of clans, in particular as found in the manuscript known from its probable date as 'MS 1467'. Sellar recognised that these pedigrees were political statements but showed how they might be analysed to show their reliability (or not) as historical sources. This research could also reveal much about the Gaelic-Norse interaction in Argyll and the Western Isles in the period, although Sellar's work was by no means limited to that region or to that aspect of its history, ranging from the Picts to nineteenth-century historiography.
Image caption: David Sellar Lord Lyon King of Arms
About the speaker
Hector MacQueen taught in the Edinburgh Law School 1979-2021. Appointed to the Chair of Private Law in 1994, he was Dean of the Law School 1999-2003, and Deputy Head of Humanities and Social Sciences 2004-2008. He was on leave of absence from the University as a Scottish Law Commissioner from 2009-2018. He retired in 2021 and became Emeritus Professor of Private Law. His research has been on private law and legal history. In 2022 he published a collection of the late David Sellar's legal history essays under the title Continuity, Influences and Integration (Edinburgh University Press) and has recently completed work on a further collection provisionally entitled Pedigrees and Power in Celtic Scotland.
How to participate
This talk will begin at 7.30 pm (GMT) and last up to one hour, followed by questions. As the audience for each talk will be limited to 100, please register in plenty of time by e-mailing us (click either on the 'Register for Events' button above, or click here click here ). You will then be sent a code to allow you to join the talk.
Participation in these lectures is free to members of the Society and to students.
Non-members (other than students) are politely requested to make a donation of £5 to society funds.
To do this using PayPal just click the button below to add the lecture to your basket, and then proceed to the PayPal checkout. If you do not have a PayPal account you can still use PayPal to pay using a credit card. For alternative methods, please contact us directly.
---
Your cart is empty
---